Yoga
Yoga, the ancient Indian system of exercises is renowned worldwide.Yoga awakens the latent powers of mind and body of the individual and helps him develop a focused, healthy and powerful personality. Yoga has become increasingly familiar to many people as a trendy new pastime in the gyms and health clubs.
Yoga was developed and perfected over the centuries by philosophers and mystics in India. It is basically a method by which we increase the body's supply of energy and remove any interference to the transmission of energy throughout the body. Yoga has specialized in this subject for thousands of years, and streamlined the methods to attain this aim.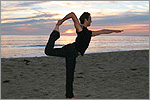 Yoga increases our own self-awareness- how we sit, how we stand, how we walk, what we eat, how we sleep, and how we interact not only within ourselves, but also with those around us.. This awareness is the essence of yoga. Our inner faculties are sharpened, and our relationships improved- our whole perspective of life changes and we subsequently feel more healthy and therefore happy.
The amazing results of yoga are now being studied by scientists all over the world. Teams of doctors at the various yogic health centers in India, keep detailed records of patients treated with yoga for diabetes, respiratory ailments, digestive complaints and obesity. Now it is studied and accepted across the globe for its many healing and relaxation effects.
For more details about yoga, write to us :
info@cheraihotels.com