Festivals of Cherai
Cherai Temple Festival :
Important pilgrimage centre in Kerala also known as South Pazhani, built in 1912. Gowreeswara temple is dedicated to Lord Muruka. The idol was installed by Sree Narayana Guru. The temple is renowned for its legendary festival, which is a spectacular cultural and religious event. The trumpeting of more than 25 elephants, beautifully dressed woman in their finest silk sarees, people gathered around waving their hands to the magical sound of Panchavadya playing on the lawn, and the thrilling evening firework display, combine to evoke a feeling of time-honoured tradition.
Passions culminate on the final day and the festival draws to a close with reassuringly nostalgic scenes when visitors leave secure in the knowledge that at the same time next year the magic of this festival will be recreated. The Hindu festival season occurs in January or February and should not be missed.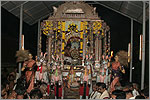 Cherai Chariot Festival (Ratholsav) :
The exquisite temple was constructed in A.D1869. Azheekkal Sree Varaha Venkateswara Temple is the only "Sampoornakshetra" in South India. This is the only temple in India where both the deities of Sree Varaha and Sree Venkateswara are installed side by side and worshiped as single moorthy (God).The famous temple ratha (chariot), which was dedicated to the deities in 1909, is built entirely from silver and Chinese glass and is a rarity in temple architecture. It is the only ratha in the world which runs on rails, with its rathaveethi (track) constructed under the supervision of European engineers.
Traditionally, the chariot festival takes place twice a year and involves the ratha being pulled by the deities around the temple accompanied by a dramatic drum beat. No other chariot festival in the world can offer these unique characteristics and perhaps one of its most important qualities is that it reinforces a sense of continuity with the past.
Pallipuram Church Festival :
The Forane church of Lady of Snow at Pallippuram is an important pilgrim center of the Christians. In 1577 AD, the church was built in Portuguese style. It is believed that when Tipu Sultan came from Mysore with his armours, destroying the churches and all things made by the Portuguese, reached Pallippuram, the nearby people gathered in the Church and prayed to Mother Mary. Then the place was covered with fog and he retreated.
Cherai cultural life would be incomplete without the festival at Pallipuram church, which takes place for 15 days and still captures the atmosphere and excitement of when it first took place. It is a wonderful mix of town and country; a combination of city fashion and age-old traditions reminiscent of English country fairs. The real passion of the festival becomes apparent on the final day when exhibitors sell their faded wares and like all time-honoured institutions, evokes emotions, with everyone taking home cherished memories of the day.
Related sites :
www.spicykerala.com »
|
www.sabarimalaayyappan.com »