Art Forms
Kathakali :
Kathakali-exquisite dances, dance dramas and traditional art forms form the core of kerala's cultural scene. kathakali is the most popular dance drama, almost always identified with kerala's cultural ambience.in which the mute actor transmite through facial expressions and hand movements the word sung by those behind them .make-up is all important,and takes much traning and hours to apply,designs varying according to characters represented.
Mohiniyattam :
Cherai has number of traditional dance forms and with vivid make up and and exotic costumes,the most popularity is kathakali,mohiniyattom,ottamthullal,bharathanatyam. Mohiniyattom expressing worship has a tradition. Mohiniyatton is performed by women wearing gold off white sari and gold jewlerry the dance moves in a soft ,swift flowing manner.
Kalarippayattu :
Kalarippayattu is kerala's traditional martial art dates from 12 century , and the traning place is called kalaris ,there are various weapons including sticks,draggers and swords.it is apparently that much of the footworks and postures have since been adopted by kathakali dancers.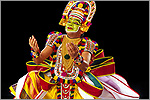 Ottan Thullal :
Thullal is a solo performance combining the dance and recitation of stories in verse. Staged during temple festivals, the performer explicates the verses through expressive gestures, yet has a distinct mass appeal due to its simplicity in terms of costume, style of singing and at times pulling the legs of the audience at certain stages of the ´thullal´ performance.