Cherai Beach
Renowned for its natural beauty and hospitality since days of yore, Kerala "God's Own Country" is wrought by idyllic vales, verdant landscapes and scenic backwaters. This tiny coastal state wedged between the towering Western Ghats and the Arabian Sea is firmly entrenched among the handful of tourist getaways of genuine international repute. Kerala has been recommended as a must-see by Lonely Planet, considered the 'Holy Grail' of travelers worldwide.
Figuring prominently amid the manifold attractions of Kerala are its mystical winding beaches. And a sandy strip, evidently an eternal favorite with holiday-makers in Kerala is 'Cherai Beach.'
Cherai - Luscious mix of sun, sand and sea….
Approximately 30 kilometres from Kochi, the commercial hub of Kerala, Cherai is sheer eye candy! It is a delectable combination of green paddy fields, coconut palms, backwaters and of course, the omnipresent Arabian Sea. What makes Cherai Beach distinct from other beach hideaways is its unique ambience – its very air spells harmony and balance.
Cherai Beach - Experience sheer bliss!
Cherai Beach is a 15-km long undulating strip of sand and surf. It has the distinction of being one of the cleanest beaches in India and owing its shallow depths, is safe for swimming, surfing and sunbathing.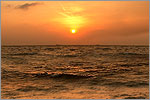 The newly spruced up 400 meters of Cherai Beach features a walkway and High Mask Lamps that lend the environs a magical touch at night. Security personnel are on duty 24X7 to lend visitors a helping hand. There is a Children's Park on the beach ensuring the kids are entertained as well. You could also hire Water Scooters and Speed Boats and go for a spin in the sea.The far end of the beach is laced with Chinese fishing nets that are synonymous with Kerala.
There are a variety of hotels and resorts to choose from in Cherai beach, some with charming rooms beautifully furnished in an elegant style, all representing good value for money. Cherai beach is a gastronomic delight, with several restaurants and bars where you can select from a wide variety of international and Indian dishes, including Kerala specialities, prepared to your taste. Be sure to indulge in the sumptuous seafood, and quench your thirst with delicious freshly squeezed fruit-juices, milkshakes and other soft drinks. For a change you might like to try the local alcoholic drink, toddy, which is made from coconut sap. Traditional Ayurvedic treatments are also available at beach, which are performed by specialist practitioners. Appealing to health-conscious visitors, these time-tested remedies will re-energise your body, soothe your mind, and feed your soul.
Reaching Cherai beach…
(cherai )
Cherai beach is becoming a popular place in the itinerary of both domestic and international travellers bound for Kerala. It is just 25km away (40mins by bus) from the new Goshree Bridge from Ernakulam, which connects the islands of Bolghatty, Mulavukadu, Vallarpadam, and Vypeen, making access to this beach much easier. Alternatively, a road route can be taken via Edappally to North Paravur and from there to Cherai, a distance of approximately 25km, or from Fort Cochin by ferry to Vypeen island which is 22km from Cherai beach.
Cherai beach can also be approached directly from Kochi International airport via North Paravur, approximately 30km away which takes 30mins. The nearest railway station to Cherai beach is at Aluva, whilst Cochin has two stations: Ernakulam Junction and Ernakulam Town; both around 35km away. Cherai lies at the northern end of Vypeen Island, and is a part of Pallipuram Panchayath in Ernakulam District, Kerala.
Road map to Cherai Beach
Swimming and bird-watching...
The crystal clear waters around Cherai Beach are ideal for swimming, snorkeling and surfing. Besides these, there is ample scope for bird and animal watching. You may actually spot a heron or stork scrounging for its prey amid the paddy fields, or ducks waddling in shallow pools and dolphins frolicking in the surf. Cherai's backwaters which constitute a network of lakes, lagoons, canals and estuaries are home to a wide variety of freshwater flora and fauna. And on its beach, you are sure to come across thousands of seashells of diverse hues, shapes and sizes.
Accommodation at Cherai Beach »
Related sites :
www.munambambeach.com »
|
www.spicykerala.com »
|
www.kuzhupillybeach.com
»