Home
|
Accommodation
|
Hotels & Resorts
|
Kadalkkara Lake Resorts
Kadalkkara Lake Resorts lying between the pristine Cherai beach and panoramic Cherai lake is the ideal choice for budget holidays.Cherai beach is famous for its unspoiled stretches of golden sand shallow water.The Cherai lake is a scenic stretch of water, harbouring round the year the best shrimps, lobster and mussels and surrounded by lush tropical greenery.
Location :
Situated on the west coast of India, the state of Kerala,is famous for tropical beaches and back water cruises. A typical Kerala village with paddy fields and coconut groves nearby is an added attraction of this beach. It is one of the best beaches in India. Cherai beach,22 kms from Kochi International Air Port or 26 kms from Ernakulam Town. Kadalkkara Lake Resorts at the gateway to Cherai beach.
Facilities
Kadalkkara lake resorts set on the banks of the cherai lake,offers cosy tatched cottages build on the stilts of eight feet height to give an unbroken view to the silky lake.The clear breeze from the lake and sea traveling through the grooves cools the room naturally.
Your day starts at the east,enjoying from the bed seeing the colourful scenic beauty of behind the golden clouds the sun shining, the sight of the exotic local fishermen in their canoes fishing or deep diving.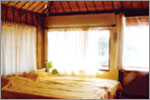 During monsoon you can enjoy the spectacular sight and thrill of the roaring rain and music of the thrizzling rain laying in the huts with gods in god`s own country.
Our facilities include well furnished mini conference hall,where you can conduct all kind of meeting, family meetings, birth day parties. You can also enjoy beach games, fishing, boating and back water cruise etc. We arrange sight seeing trips as per your requirement.
Tariff
| | | |
| --- | --- | --- |
| Cottages | No: of Beds | Rate (November to April) |
| Olakkettu | 2 | Rs.850/- |
| Thattinmukal A/C | 2 | Rs.1200/- |
| Thattuveedu | 2 | Rs.850/- |
| Nadukkettu | 2 | Rs.750/- |
| Kochuveedu | 2 | Rs.750/- |
| Valiaveedu | 2 | Rs.600/- |
| Dormitory | 4 | Rs.1500/- |


Check in 12 noon & Check out 11 am
Govt Taxes as applicable
Above rates are not applicable, on Dec 24th, 25th 30th & 31st