Home
|
Accommodation
|
Hotels & Resorts
|
Baywatch Beach Homes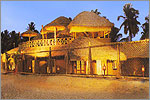 Right on this ocean's edge warm sand, we have Kerala's first ever beach front resort for you the Bay watch resort. This sun-kissed beach resort tempts beach lovers in a myriad ways. Catch a glimpse of playful dolphins chasing the crescendo of waves or the pelicans diving for fish. Take a relaxing dip in the cool, emerald Waves. Ride in native snake boats through the backwater coast laced with its Chinese fishing nets. Indulge yourself in the luxury of the rich ocean view as you slip into a rejuvenating Ayurvedic massage at our spas. Or simply swing from a hammock and unwind to a book on a lazy afternoon on the mile-long expanses of silken sand.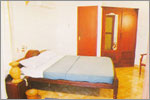 Stroll on the sweeping curve of the bay and enjoy a rendezvous at the mesmerizing sunset point. Or steal a barefoot walk on the beach's golden sand on a moonlight night as soft waves nudge feet. Pamper yourself to the magnificent starlit ocean sky-view and treat yourself to an array of sea food delicacies like succulent party by the bonfire on the coast. Soak in the picturesque beauty of the beach at the Mermaid, our thatched roof top restaurant. And sleep to the lullaby of the sea breeze.
Location :
Wherever you are on our resort, the sun, surf and sand accompany you. Apart from the reach-taking beauty of the ocean, our ample comforts and luxuries, nature friendly theme, modern facilities and unmatched hospitality service, are what makes Bay watch a paradise on earth for you, right next to sea-shore. Where time is all your own. For you to savoir. At your own pace.
Facilities
MultiCusine Restaurant with Indian, Chinese & Continental
Bar Facility on Roof top with Liquor/Beer Service
Special Sea Food Dishes like Squid, Lobster, River Fishes
Spacious Rooms with Sea Facing and Sun Bathing
Tariff
Rooms

Off Season
June 01 to Aug 15
Mid Season
Aug 16 to Oct 31
Apr 01 to May 31
Mid Peak Season
Nov 01 to Dec 15
Jan 06 to Mar 31
Peak Season
Dec 16 to Jan 05
Sea View Deluxe
Rs. 2700/-
Rs. 3300/-
Rs. 3800/-
Rs. 4400/-
Deluxe Rooms
Rs. 2200/-
Rs. 2800/-
Rs. 3400/-
Rs. 4000/-
A/c Room
Rs. 1800/-
Rs. 2200/-
Rs. 2600/-
Rs. 3600/-
Non A/c Room
Rs. 1500/-
Rs. 1800/-
Rs. 2000/-


Rate given is on EP Basis
Checkin-Checkout 12 Noon
Govt. Tax 15% applicable for the above Tariff
Extra Bed/Person Rs.500/